ZOUTMAN is building a new production facility to keep up with global demand for sea salt
ZOUTMAN is building a sea salt production tower in North Sea Port (Ghent, Belgium) measuring 64.5 metres in height. Demand for this naturally and sustainably extracted salt, is rising sharply across the globe. The new facility is scheduled to be operational by mid-2023 and will enable the company to ramp up its production output by 150,000 tonnes of sea salt per year.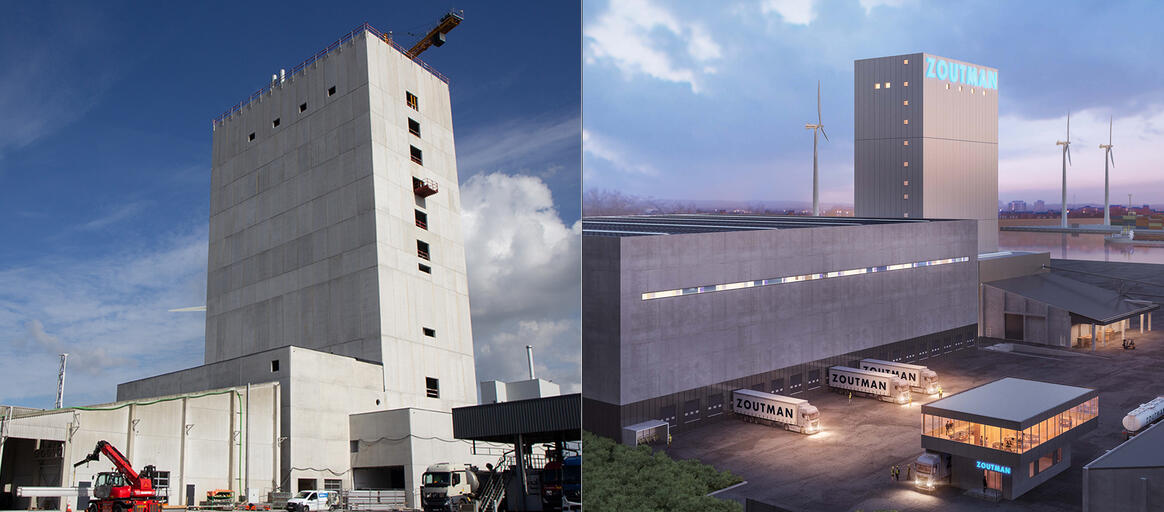 Sea salt without additives
ZOUTMAN raises its production output by 150,000 tonnes per year with a view to catering for the rising demand for sea salt. Especially in the food industry, the demand for sea salt is booming, due to its natural and gastronomic properties. In the new facility, ZOUTMAN will specifically focus on the production of sea salt without additives.
"Traditional kitchen salt contains artificial additives. Salt is quick to absorb moisture. To prevent the salt from clumping up, anti-caking agent such as E535 is added for instance. It is particularly difficult to sell salt without anti-caking agent. The reality being that, without E535, the salt risks turning rock solid, rendering it unusable once it gets to its destination."
ZOUTMAN co-CEO Bert Lamote.
This is the very E-number which a lot of food producers would rather see scrapped altogether. The fact of the matter is that consumers are increasingly actively seeking out natural foods that are 100% additive-free.
"We are seeing that food companies are keen to switch to additive-free sea salt as quickly as possible. Thanks to substantial investments in research for our MARSEL® food grade salt, we are the sole sea salt producer in the world that is able to deliver a high-quality response to the huge demand. The particular crystal structure, low moisture content and the calibration of our sea salt combine to greatly slow down the clumping process."
ZOUTMAN co-CEO Bert Lamote
Sustainable high-rise build
ZOUTMAN makes it a point of honour to safeguard the natural and eco-friendly nature of its sea salt, including during processing. Which explains why ZOUTMAN's engineers designed the new production tower with a view to sustainability.
One specific aim was to use as little ground surface area as possible. This has resulted in an efficient high-rise construction, which sees ZOUTMAN more than double the production yield per square metre compared to its Roeselare site.
One added benefit of a high-rise build is that the production process is gravitational, meaning it is driven by natural force of gravitation, and requires as good as no energy.
Moreover, ZOUTMAN is planning to become wholly self-sufficient in terms of energy, which is why the company has poured considerable investments into heat recovery technology to heat the tower
The new production plant does not discharge wastewater. The process water is to be internally treated and reused.
ZOUTMAN's new production site ranks among the most advanced anywhere in the world. For instance, the plant is set to be fitted with 5 unique optic cleaners that will remove all impurities from the salt. With the aid of hyper-sensitive cameras, any remaining bits of sand or shells are to be pneumatically removed.
With the arrival of the new production site, over time ZOUTMAN is set to hire at least 40 new employees.