Why incorporate MARSEL® in your retail range?
Which retailer gets the consumer's business? Simple: the one they have the most trust in. You can build up that relationship of trust by opting for strong brands. When it comes to salt, MARSEL® is a reliable choice that will win over your customers. And here's why in 5 reasons.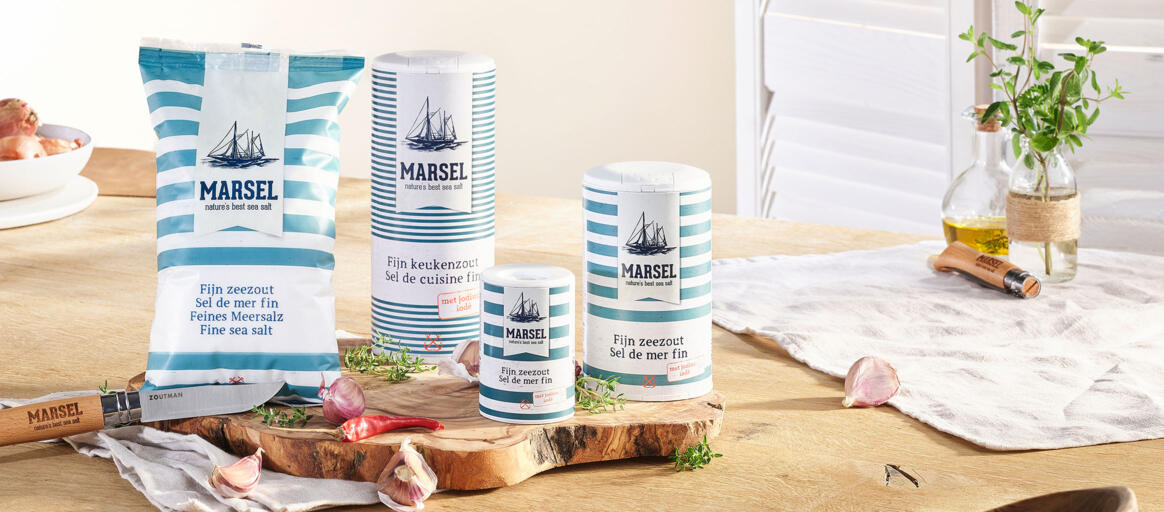 You get the attractive packaging and well-honed marketing for free.
1. The trumps of sea salt
Many retailers focus on conventional fine kitchen salt (PDV or vacuum salt). Of course, there is a vast market for this, but consumers are actively looking more and more for natural and healthy products. Consumers perceive sea salt as more of a premium product compared to chemically purified vacuum salt. They particularly appreciate the natural source and gourmet character of sea salt.
In other words, thanks to its positive image, you can take a bigger margin on sea salt compared to conventional kitchen salt. That's why MARSEL® is the perfect complement to your range.
2. A premium brand
With MARSEL®, you immediately have a premium brand on your shelves. Within the food industry, MARSEL® is already the benchmark, but this unique sea salt is also very popular in the European retail market. This is primarily due to its outstanding quality. MARSEL® rivals the purity of traditional kitchen salt, while simultaneously offering all the advantages of sea salt. A unique combination in the salt market. On top of this, you get attractive packaging and well-honed marketing for free.
3. Belgian quality
MARSEL® is produced by ZOUTMAN. This means that the processing of the sea salt takes place entirely in Belgium. The salt is harvested from natural seawater in warm areas as coarse, relatively large salt crystals. ZOUTMAN then washes, dries, filters and breaks the raw sea salt into different grain sizes. Literally every grain passes through strict quality control.
This makes MARSEL® a product fully in line with Belgian quality standards. And therefore fully in line with the expectations of your customers, who prefer high-quality products.
4. A broad range
Why choose one product when you can offer a complete range straightaway? Fine, coarse, iodized or gourmet sea salt: MARSEL® is your partner for every type of sea salt. With maximum flexibility for your customers too. They can choose from salt products in shakers, grinders, boxes, bags and portion sachets. And always in attractive and recognisable packaging that stands out on the shelf!
5. Under own management from A to Z.
ZOUTMAN firmly holds the reins in its own hands throughout the entire production process. The in-house processing, packaging, storage and transport of the sea salt boosts the reliability of the products in the MARSEL® range. This ensures that ZOUTMAN personally guarantees consistent and high quality.
MARSEL® sea salt for the retail sector