The role of pricing in public contracts
As a public institution, you have to watch your budget. This makes it quite normal for you to request a range of quotes when issuing a public contract, including when buying de-icing salt. And although the price is of course a major factor, it is dangerous to simply award the commission to the cheapest party. We will give you a few good reasons why it is interesting to bring other award criteria into the mix too.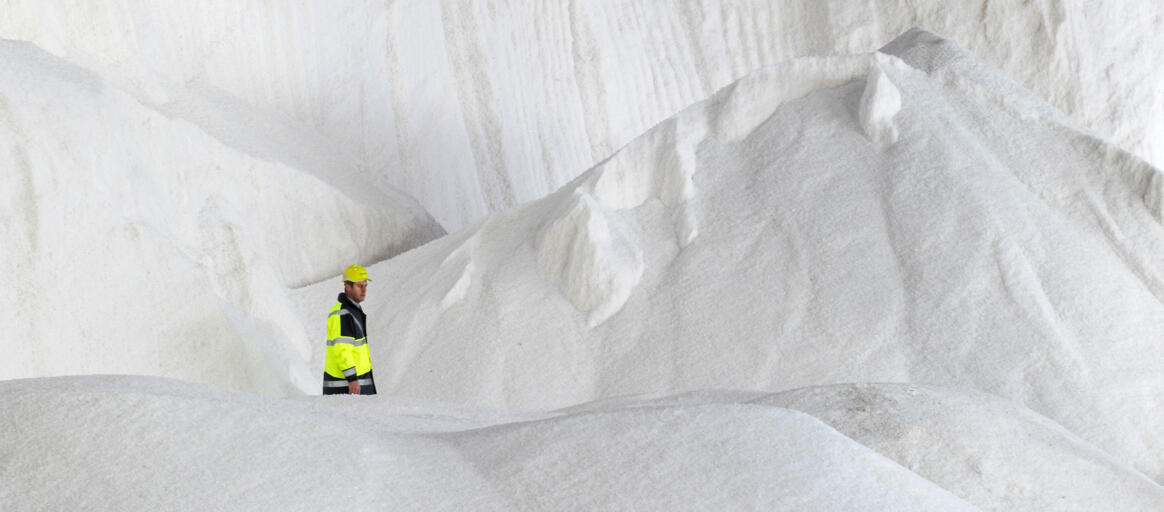 Offering the cheapest de-icing salt and the best conditions is not feasible for any supplier.
De-icing salt accounts for only a limited share of the total winter costs
The price difference between the various de-icing salt suppliers is marginal in most cases, amounting to a few euros per tonne at the most. While it is possible to choose your supplier solely on that basis, it may not be wise. Choosing de-icing salt at the lowest price means compromising on the quality of the salt or on the service conditions, such as the guarantee of being supplied on time in the winter. After all, it is not unusual for a de-icing salt supplier to run out of stock. Offering the cheapest de-icing salt AND the best conditions is not feasible for any supplier.
Moreover, de-icing salt accounts for only a limited share of the total winter costs. There are also staffing costs for municipal services, investments in equipment or repair costs after frost damage. That means that a municipality stocking up on de-icing salt for a few more euros per tonne will only see a few hundred euros added to their final total at the most. If you can get better quality service conditions for that, then surely it is better not to take any risks?
The winter costs are rising fast
This makes the price differences for de-icing salt stocks from various suppliers negligible. By contrast, the physical and economic damage of insufficient efforts to combat slippery roads is not. Let us take a moment to reflect on the winter of 2017. Back then, heavy snowfall on 11 December paralysed Belgian traffic.
The Flemish Employers' Association Voka calculated afterwards how much these so-called snow jams had cost the country. The verdict: 11 million euros - just from all the cars in a traffic jam. In reality, the cost was even higher, as production stopped completely at various companies owing to late deliveries of components, including for Volvo in Ghent.
At a local level also, the damage quickly runs into the thousands of euros: this could be from car crashes or pile-ups, leading to possible damages claims against the municipality. With this knowledge in mind, the additional costs of a few hundred euros for de-icing salt seem like nothing. What is more: safe citizens are happy citizens.
Other important award criteria
The reasons above are exactly why, besides price, there are also other important award criteria. By allowing these to count for 50% in the award process, you can avoid practical problems with de-icing salt and the accompanying mobility problems in cold snaps.
Take these matters into consideration when issuing a public contract:
What is the quality of the de-icing salt? Does it have the ideal grain size for rapid and sustained onset? Is it dry and easy to spread? The supplier must be able to answer all these questions using detailed technical data sheets. A general rule: the higher the quality, the better the effect of the de-icing salt and thereby the less chance of problems in winter.
Does the supplier provide a stock guarantee? Can they, in other words, guarantee that they will still have some de-icing salt left after a number of cold snaps?
Proximity: Where is the supplier based?
Can the supplier deliver quickly and on time in the winter period too?
Buy in the summer or trust the de-icing salt guarantee
Do you want the cheapest de-icing salt? Then it is best to purchase it in the summer, when the demand is still very limited. This way, you can benefit from low pre-season rates. Naturally it is difficult to predict how mild or severe the winter will be, so how much de-icing salt should your city, municipality or agency buy? You will want to avoid a huge surplus, but at the same time you do not want to run out of salt to spread. ZOUTMAN offers a solution to this with the de-icing salt guarantee.
How does it work? You reserve a large quantity of de-icing salt, easily enough to get through the most severe winter. ZOUTMAN will keep this in stock. Throughout the winter, you only buy the quantity of de-icing salt that you need. Besides the actual tonnage that you purchase, you will only pay a small reservation cost. You do not have to store large quantities of salt yourself, and you can be sure of having enough de-icing salt at your disposal at any time.