Ready-to-use salt brine from ZOUTMAN - maximum return with minimum investment
Salt is a vital ingredient in many foods. It usually involves small quantities added to the overall product. That is why the cost of the salt and the work involved in adding it is often disproportionate to the rest of the raw materials. ZOUTMAN, however, has a solution to strike the right balance: ready-to-use salt brine.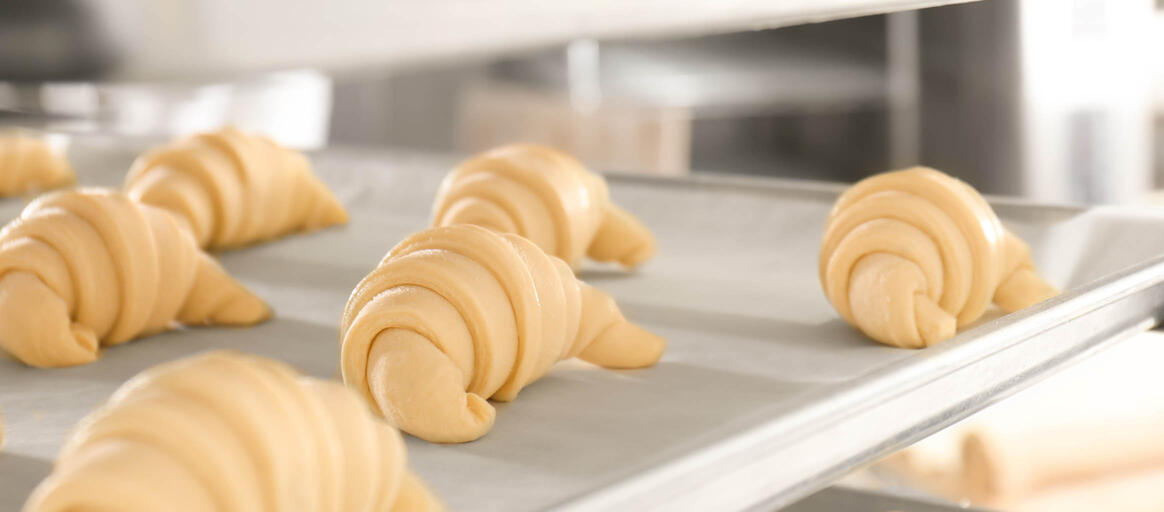 To make its puff pastry, Gourmand uses six ingredients: flour, sugar, liquid yeast, liquid conditioner, water and salt. The production process is automatic and this means that the dosing of ingredients is automatic too.
Making your own salt brine: not easy
The idea of marketing a ready-to-use, food-grade salt brine came about a few years ago, as a response to the very real demand from a range of food producers. Food producers usually opt to work with a liquid version called salt brine. However, they have to make this manually and that takes a great deal of time and physical strength because salt is packaged in 25 kg bags, which has to be poured into a buffer container or pickling bath. Even if the food producers only need a tiny amount of this ingredient, hauling bags of salt around is a very time-consuming business. There are also many other problems related to using bags of salt and also salt in bulk. The most common are: safety and ergonomics, the development of corrosive salt substances during processing, monitoring quality, maintenance and management of pallets, packaging waste, etc.
Advantages of ready-to-use salt brine
All of these problems are a thing of the past with the ready-to-use salt brine made using pure salt. This is a solution with a concentration of at least 23% NaCl. The only thing the user has to do is invest in a simple storage tank. This requires floor space of just 9 m². The customer may, of course, choose where he buys his storage tank. But he may wish to use ZOUTMAN's expertise, who can also provide their own 'plug and play' solutions. This will help simplify the transfer to salt brine.
"The customer must make a, probably limited, financial investment in order to start using salt brine," explains Bert Lamote. "But the reduction in manual handling and water costs will bring down the ROI in terms of costs for the tank to under 1.5 years and, in some cases, less than a year. Then the savings become significant. And we've not even mentioned the other advantages, which also translate into profit. Finally, our salt brine has a few other benefits: it can be used for a range of applications, e.g. softening water, salt baths, road salt, etc. Thanks to our efficient logistics, we can also guarantee rapid deliveries using our own fleet."
Gourmand opts for salt brine
In the meantime, many Belgian food producers have successfully switched to ZOUTMAN's salt brine solution, including manufacturer of frozen puff pastry products Gourmand from Moeskroen. Since the company moved to its new premises, after a fire, in 2004, its production process has quadrupled. Today, the company has 160 staff and generated a turnover of 55 million Euro last year.
"When ZOUTMAN explained its brine solution to us, we were initially a little sceptical. At the end of the day, you're transporting mostly water. How could this possibly be profitable? After the conversation, however, we were completely won over," explains Plant Manager Piet Willems. "The calculations spoke for themselves; we could achieve a substantial saving, allowing the investment in a 42 m³ tank and installation to be earned back in just three years."
"But this wasn't the only reason we switched to ZOUTMAN's salt brine solution. It also provided a solution to another problem within Gourmand. In order to expand, we needed more manpower to make the brine ourselves. This would have led to the price of the salt falling out of line with other raw materials."
Salt: an expensive ingredient
To make its puff pastry, Gourmand uses six ingredients: flour, sugar, liquid yeast, liquid conditioner, water and salt. The production process is automatic and this means that the dosing of ingredients is automatic too. Piet Willems: "We used to work with salt brine, but we made the mixture ourselves. A liquid solution is easy to dose. The rapid growth of the business meant that our annual salt usage rose to over two hundred tons. That meant that we had to manually process around forty bags of salt to create the brine every day. Costs for handling rose as a result and the warehouse tasks were becoming unmanageable." Salt may well be one of the cheapest ingredients around but, in reality, the overall costs can be much higher.
42m³ tank
Gourmand switched to ZOUTMAN's brine solution a few years ago. Spiromatic installed a 42 m³ storage tank for the transfer. Piet Willems: "In order to avoid running out of salt brine, we order a load when we reach 10 m³. ZOUTMAN will deliver a full tank and supplies around 25 m³ each time." Even though ZOUTMAN has the option of using an automatic ordering system to replenish stocks (via a remote solution which measures the level in the tank and generates an alarm when the minimum level is reached), Gourmand currently carries out its checks manually. Piet Willems: "The tank is located in an area where we often work so it doesn't take much effort to check the gauges."
Added value
Piet Willems is a happy man. "The calculations which ZOUTMAN used to convince us were absolutely right," he explains. "A huge amount of work is now no longer necessary as we don't have to process raw materials, waste and pallets. It is also positive that the mixture is frost-resistant down to -21°C. This is an important aspect, as the tank is located outdoors. Finally, we are delighted with the customised product that ZOUTMAN has provided. At our request, the company now also adds iodine to the salt brine. In Belgium, it is not a legal requirement to use iodised salt but, in this way, we are anticipating future regulations. We have to say that this partnership has provided a great deal of added value."