MARSEL® salt and pepper grinders
The stylish MARSEL® salt and pepper grinders combine the strengths of high-quality sea salt and black pepper with sophisticated design. The MARSEL® grinders are easy to refill and come with a ceramic grinding mechanism, which is much stronger than plastic. This enables these quality grinders to grind much more flexibly than traditional grinders whilst ensuring the perfect grain size. Enabling you to get the best flavour from your salt and pepper.
Moreover, the ceramic grinder completely dispenses with any risk of chipping plastic particles into people's plates.
Show all product specifications
Application
From the deep blue accent colour to the design of the grinder heads, these salt and pepper grinders are a visual delight. Put them on the table and watch the admiring glances on your guests' faces!
Ceramic grinder

For the perfect taste experience. Plastic-free.

Stylish and recognisable packaging

After all, appearance counts for something too.

Natural product without E-numbers

A worthy addition to your traditional as well as your organic range.

Strong Belgian brand

Enjoyed around the world.

Sea salt of the highest quality (99.8% NaCl)

Quite literally every single grain is checked for purity.

Sea salt is rich in minerals and trace elements

Body essentials.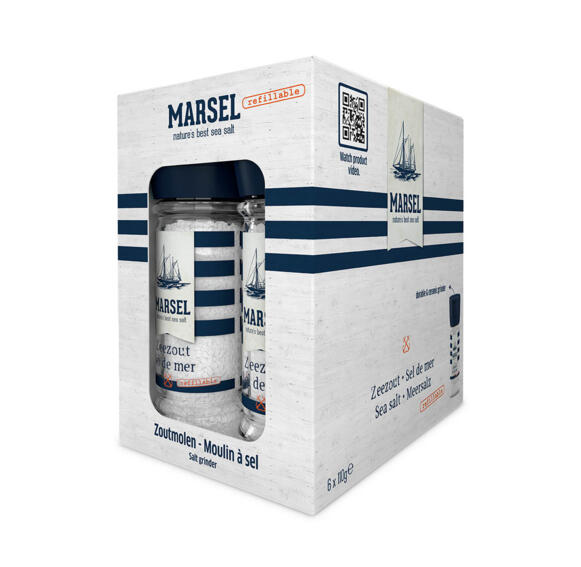 Attractive wholesale packaging
Salt and pepper are not trivial items of subsidiary importance. They are worthy of being served in an appealing package. The MARSEL® salt and pepper grinders are packed 6 to a box in a stylised, cardboard display box. The boxes are based on the familiar MARSEL® colours and house style. Making sure they stand out on your shop shelves. Refilling the MARSEL® salt grinders with coarse sea salt is easy, using the 6 kg refill buckets or 1kg bags.
Product specifications
Packaging
45 GR GRINDER
110 GR + 45 GR DOUBLE PACK
110 GR GRINDER
Additives
Available without additives
Storage
Store in a dry place
Shipment
Available in packs of 6 in a stylish cardboard display box
Request technical sheets.
We'll send it to your email address.
Request