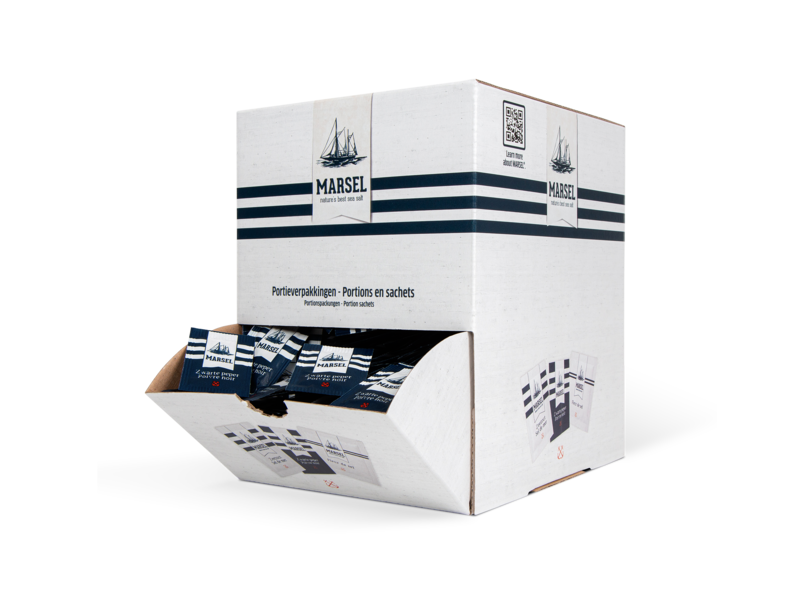 MARSEL® portion sachets
From Belgian fries all the way up to gourmet dishes: surprise your customers with naturally harvested sea salt and black pepper in stylish individual sachets. MARSEL® offers discerning foodies a better quality alternative to the unexciting salt and pepper in other sachet portions. Without additives. For guaranteed culinary success that meets the strict hygiene requirements in the new normal.
Show all product specifications
Application
MARSEL® individual sachets are ideal for the hospitality industry, caterers and on-the-go.
The very highest food grade quality (99.8% NaCl)

Quite literally every single grain is checked for purity.

Hygienic

A must in corona times.

Rich in minerals and trace elements

Body essentials.

Stylish and recognisable packaging

After all, appearance counts for something too.

Natural product without E-numbers

A worthy addition to your traditional as well as your organic range.

Strong Belgian brand

Enjoyed around the world.
Deliver the full experience
Enrich your range with MARSEL® fleur de sel, one of the world's most exclusive salts. Fleur de sel is the thin delicate top crust that forms on the seawater in the salt pans on hot summer days. This hand harvested sea salt is praised and coveted for its soft texture and subtle taste.
Attractive dispensers
The matching dispensers are very easy to use and an instant eye catcher. This dispenser gives your customers a delightful tastemaker that will spice up interiors and dishes. Covering both bases all at once!
Product specifications
Packaging
140 GR KARTON
500 GR KARTON
1 KG KARTON
Additives
Available without additives
Storage
Store in a dry place
Shipment
Available in practical and attractive dispensers
Request technical sheets.
We'll send it to your email address.
Request