ZOUTMAN launches portion sachets filled with sea salt, black pepper and fleur de sel
The corona crisis has led to a steep increase in demand for more hygienic portion packs in the catering and food industry, such as salt and pepper. These are separately prepacked portions that customers can use to season their dish as they please. The increased interest in portion packs is an incentive for Belgian salt producer ZOUTMAN to considerably raise the bar within this market. Professionals can now enjoy a high-quality alternative to the standard salt and pepper with MARSEL® portion sachets. On the menu: naturally harvested sea salt, black pepper, and even the exclusive fleur de sel.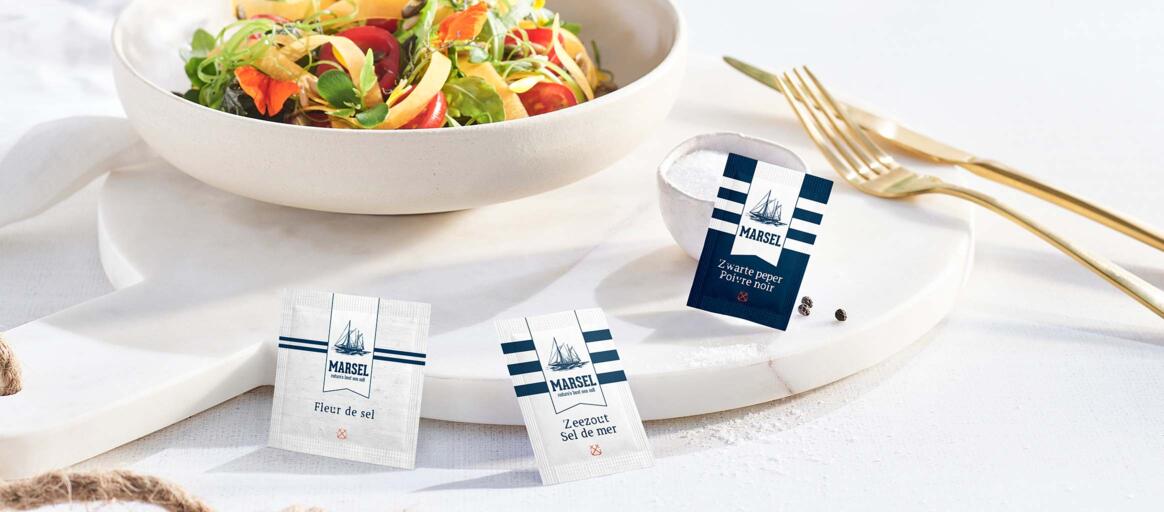 It is remarkable that ZOUTMAN also releases their fleur de sel in portion servings. This is unique, as fleur de sel is basically the best of the best when it comes to sea salt.
High-quality alternative
The current, extra strict guidelines for hygiene in the catering industry causes many entrepreneurs to look into the purchase of portion packs. Portion packs are easy to use and guarantee hygiene and safety. 'In recent months, we have received a lot of messages from restaurants and customers, asking if MARSEL® sea salt products are also available in portion packs,' says Dieter Verfaillie, Global Retail & Foodservice Sales Manager of salt producer ZOUTMAN. 'The portion sachets that were already on the market usually contain standard salt and pepper, and – to be honest – they also look fairly boring. Many self-employed entrepreneurs understand the importance of the new safety measures, but they want to continue to offer their customers authentic quality products at the same time.'
MARSEL®, ZOUTMAN's food-grade sea salt, has become a high-quality benchmark in the food industry. MARSEL® is also increasingly popular in the international retail market. 'We meet the demand of many professionals by offering MARSEL® in stylish portion packs,' Verfaillie says. ZOUTMAN has also carefully selected which pepper to use. 'Our choice of pepper cannot lag behind and should be in line with the quality of our salt. We have been assisted by external experts to select the best pepper out there. Based on their advice, we opted for high-quality black pepper.'
Fleur de sel
It is remarkable that ZOUTMAN also releases their fleur de sel in portion servings. This is unique, as fleur de sel is basically the best of the best when it comes to sea salt. It can only be harvested on hot summer days when there is hardly any wind. Under those conditions, salt crystals float at the surface of the water in the salt pans, forming a wafer-thin crust. This layer is also called the "flower of salt", which is a literal translation of "fleur de sel". This salt is collected manually by the "paludiers" or salt workers. It is a labor-intensive job, which leads to the limited availability of fleur de sel. 'The MARSEL® fleur de sel in portion packs is our showpiece,' Dieter Verfaillie continues. 'Fleur de sel has a soft and subtle taste. It is an incredible added value for everyone in the industry.'